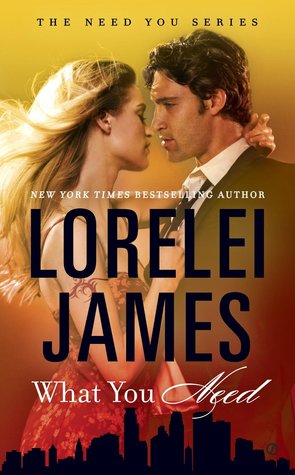 New York Times bestseller Lorelei James introduces a new family for readers to fall in love with in the Need You series. The Lund name is synonymous with wealth and power in Minneapolis-St. Paul. But the four Lund siblings will each discover true love takes a course of its own…
As the CFO of Lund Industries, Brady Lund is the poster child for responsibility. But eighty hour work weeks leave him little time for a life outside his corner office. His brothers stage an intervention and drag him to a seedy night club...where he sees her, the buttoned up blonde from the secretarial pool who's starred in his fantasies for months.
Lennox Greene is a woman with a rebellious past—which she carefully conceals beneath her conservative clothes. She knows flirting with her sexy, but aloof boss during working hours is a bad idea. So when Brady shows up at her favorite dive bar, sans his usual snappy suit, and catches her cutting loose, she throws caution aside and dares him to do the same.
After sparks fly, Brady finds keeping his hands off Lennox during office hours is harder than expected. While she makes him feel alive for the first time in years, a part of him wonders if she's just using him to get ahead. And Lennox must figure out if Brady wants her for the accomplished woman she is—or the bad girl she was.
Elizabeth's Review
4 Stars - Would Recommend to a Friend
Review Copy provided by publisher via Net Galley


I was in a bit of a funk when I started reading this book and it was just what the doctor ordered! The rich boss/poor employee trope can be very trite, but Ms. James puts a fresh spin on things that made What You Need a fun and entertaining story.
Lennox and Brady were both terrific characters who were much more than they initially seemed to be. I enjoyed spending time with them and watching them get to know each other. I also appreciated the fact that even though they explored their sexual tension, they didn't consummate the relationship right away.
Brady's family (the Lunds) had the biggest roles in the supporting cast and I am hoping we will see books featuring his siblings and cousins soon. They all seem like fun people to get to know.
I have two complaints about What You Need. One: Brady's brother, Walker, discussed his relationship with Lennox somewhere he shouldn't have. Brady mentions needing to deal with that, but we never see the resolution. Two: The ending. I don't want to give anything away, so I will just say that the ending seemed anticlimactic to me based on the rest of what we know about Brady and Lennox.
Even with my grumps, I still enjoyed What You Need and am hoping to see additional books in the series.