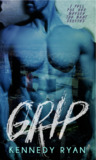 Grip
by
Kennedy Ryan
My rating:
5 of 5 stars
When you start reading Grip, make sure you are comfortable and don't need to go anywhere for a while because once you dive into this story you won't want to put it down!
We first met Bristol and Grip in Ms. Ryan's Soul to Soul series and that back story does play into the emotional impact here (just a warning in case you are new to Ms. Ryan's work), but what we knew about these two barely scratches the surface of who they really are. From a timing standpoint, most of Grip takes place after the Soul to Soul books.
Ms. Ryan has a remarkable talent for taking characters, especially female characters, that I'm not sure I like and making them compelling, sympathetic, and someone that I would want to be friends with. That's exactly what happened with Bristol's character for me - I wasn't sure how I felt about her going into Grip, but had a little bit of a girl crush by the time all was said and done.
You could call this a second chance romance or a friends to lovers story, but those barely scratch the surface of the emotional roller coaster you'll go on. There are times when it's hard to watch two people who should be together go in opposite directions. But, we see them do that along with dealing with life times of baggage. Grip touches on family dynamics, cultural issues, and even throws in a creepy bad guy for flavor. All of this is wrapped up in a fast paced story that keeps you on the edge of your seat until the very last minute.
Amazon
~ Kindle Unlimited!
A Million Little Things
by
Susan Mallery
My rating:
4 of 5 stars
We follow three women Pam, Jen, and Zoe as they navigate life as friends and family.
I found myself relating to Jen's situation, but it was very easy to sympathize with Pam and Zoe as well.
Like the other books in the Mischief Bay series this is well written and has a focus on relationships and personal growth for the main characters.
While this is the third book in the series, it works very well as a stand alone effort - even though there is useful background information in The Girls of Mischief Bay.
Amazon
View all my reviews