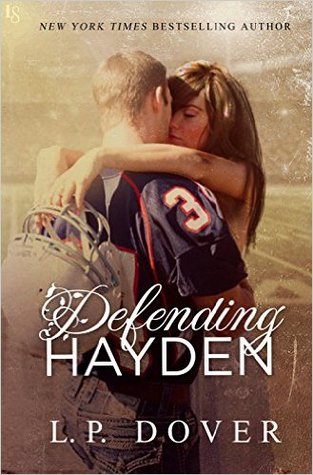 The Carolina Cougars keep fighting for love as the Second Chances series from bestselling author L. P. Dover continues! In Defending Hayden, a damaged football star teams up with the only woman who can take the pain away.
No one's tougher than Carolina Cougars linebacker Derek McLaughlin. But when a fatal car accident claims the life of his girlfriend, Derek finds himself caught in a destructive spiral of drugs, alcohol, and meaningless sex. But not even a string of one-night stands can ease the hurt. Football is all he has left. Then fate leads him back to the scene of the crash, and into the arms of a kind, gorgeous woman who sees past his façade to the man he once was . . . and can be again.
When a chance roadside encounter brings Derek into her life, veterinarian Hayden Hunter isn't fooled by his bad attitude: All bark and no bite, he's hiding a wounded heart beneath that gruff demeanor. And Hayden wants to be the one to kiss it all better. Soon they both find that a dose of passion is potent medicine. But when a hidden enemy lashes out at Hayden, Derek steps up to do what he does best: put his body on the line in the name of love.
Elizabeth's Review

3.5 stars - Worth a reader's Time
Review Copy Provided by Author
I am a late comer to the Second Chances series (this is just the second book of Ms. Dover's that I have read) and it is safe to say that I am hooked!
The set up for Derek's story happened in the prior book, but I think you could easily read this as a stand alone effort. Linebacker Derek, is returning to his football career after dealing with a personal tragedy. Life - or fate - has him repeatedly crossing paths with veterinarian, Hayden.
Both Derek and Hayden are characters that I couldn't help but like and appreciate. While we don't do a deep dive into emotional territory, we know that Derek is dealing with a lot and I loved the semi slow approach he took with Hayden. Hayden is a smart, self sufficient character with a good job and loyal friends. I enjoyed that Ms. Dover gave her a career that she loved, but also made her approachable and warm as a person.
Chance meetings turn into friendship then to more. Mistakes lead to grand gestures and there is even an element of suspense. The story of Defending Hayden not only tells the story of the relationship between Derek and Hayden, but we also see the important friendships among Derek and his teammates.
There are some elements of the story that are painted with broad strokes and a couple of places where I wondered "what about x?" But, overall this is an interesting read that has me looking forward to what comes next in the series and curious about the first 5 books.
View all my reviews