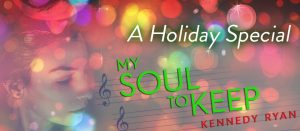 From Kennedy:
Happy Holidays! I wanted to offer something special to those who have read MY SOUL TO KEEP. A
full deleted chapter
from the book. More Rhys + Kai! If you haven't read the book, I have something for you, too. The first three chapters of the book absolutely FREE right
HERE
! Hopefully you'll love what you read. And for everyone and anyone, scroll all the way down for a rafflecopter giveaway featuring:
$5 Amazon Gift Card
(5) MY SOUL TO KEEP E-Books (if you've read, pass onto a friend!)
Or a Signed MY SOUL TO KEEP paperback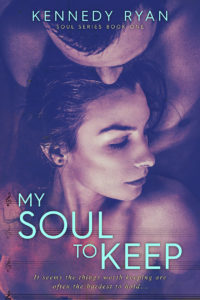 It seems the things worth keeping are often the hardest to hold...
KAI I had two things in life that mattered. My mother and my music. Mama was taken from me too soon, and now music is all I have left. It's the thing that's pushed me right out of backwoods Georgia into Los Angeles, where the line between fantasy and reality shimmers and blurs. I'm finally making my way, making my mark. I can't afford to fall for one of music's brightest stars. Not now. Music is all I have left, and I'm holding on tight with both hands. I won't let go, not even for Rhyson Gray. RHYSON I had one thing in my life that mattered – music. The only constant, it's taken me to heights most people only dream about; a gift dropped in my lap at birth. I thought it was enough. I thought it was everything until I met Kai. Now she's all I think about, like a song I can't get out of my head. If I have to chase her, if I have to give up everything - I will. And once she's mine, I won't let go.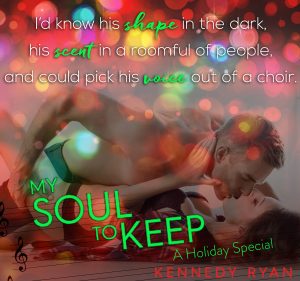 Elizabeth's Review
4.5 Stars - One of the Best Books I've Read
Review Copy Provided by Author
Friends to lovers is one of my favorite themes in books and in My Soul To Keep, Kennedy Ryan takes the idea to a whole new level. Kai is a young woman who put her dreams of singing and dancing on hold when her mother became ill. Rhyson is a jaded super star who didn't have a true childhood. A chance encounter brings these two together and they instantly connect. Kai resists the attraction and insists that they can just be friends. Ms. Ryan does a fantastic job of pulling you into the story of the budding friendship/relationship between Kai and Rhys. There is a sense that both of them know that what they have is much more than a friendship, but that Rhys is working very hard at respecting the boundaries Kai has set up. I got the feeling that part of the reason these two worked as well as they did was due to Kai's boundaries. The fact that she resisted the initial attraction set her apart for Rhys from the "normal" girl who went after him. The difference made him curious and the curiosity ended up opening him up in ways that he normally wouldn't. The friendship also served a purpose for Kai in helping her heal some of the wounds grief caused. Even though we knew where these two were headed, I loved it when they finally managed to get things right and get together. The transition from friends to lovers was rocky for Kai and Rhys, but I loved how they stood together and stood up for each other when things got rough. My Soul To Keep is an emotional story with roller coasters of highs and lows. Rhys and Kai are both wonderful characters, but they are both also flawed people who make mistakes. Some of those mistakes are whoppers and still need to be dealt with (I can't wait for the next book!). There is also an interesting supporting cast, some of whom I liked more than others and some of whom I think have a role to play in whether or not our wonderful characters will get things worked out or not. One of the things I loved about this book is that we actually got to see the building friendship then the transition to a more romantic relationship. Ms. Ryan's excellent story telling pulls you into the story and makes you invest in what these people are feeling. She has me on the edge of my seat waiting for the next installment of the Soul series.
a Rafflecopter giveaway
About Kennedy Ryan
I just can't write about myself in third person for one more bio! I'm a wife, a mom, a writer, an advocate for families living with autism. That's me in a nutshell. Crack the nut, and you'll find a Southern girl gone Southern California who loves pizza and Diet Coke, and wishes she got to watch a lot more television. You can usually catch me up too late, on social media too much, or FINALLY putting a dent in my ever-growing To Be Read list!
Let's Connect!