We had over 50 nominees for Reader Favorites of 2015 and have had everyone vote to get it down to the top 20. Today we are showcasing 10 of those favorite books, in no particular order. Enjoy!
With a suspect from the "Chorus Girl" case in custody, Detective Richard Giordano and Empathy Delacroix are ready to pursue the bonds of love and friendship. Free from the restrictions of the case, their love affair becomes a full-blown relationship. Life is relatively normal until another chorus girl turns up dead, and a new cocktail hits the Broadway scene, "Nine." As the case progresses, it's looking more and more like Em is somehow tied to an illegal underbelly of New York. Richard must swallow his pride, and his fears, and work with his argumentative brother, Bobby, to crack the case and protect Em. While one killer is behind bars, the man pulling all the strings is still at large and still set on Em. Richard and Em both know what it will cost to catch a maniacal killer, but the price might be more than they are prepared to pay.
Goodreads
~
Amazon
A scarred fighter. A girl with rules. One night of unbridled passion. There are three things you need to know about Elizabeth Bennett: she's smart as a whip, always in control, and lives by a set of carefully crafted rules. She's learned the hard way that people you love the most always hurt you in the end. But then she meets Declan Blay, the new neighbor at her apartment complex. A tattooed British street fighter, he's the campus bad boy she's supposed to avoid, but when he saves her from a frat party gone bad, all her rules about sex and love fly out the window. She gives him one night of unbridled passion, but he longs for more. With only a cardboard-thin wall separating their bedrooms, he dreams of possessing the vulnerable girl next door forever. One night. Two damaged hearts. The passion of a lifetime. *a modern love story inspired by Pride and Prejudice*
Goodreads
~
Amazon
There is no greater burden than a secret, and Kari Stanley has been carrying one alone for a long time. But fate intervenes in the form of a broken down car and the kind offer of assistance from a handsome stranger with a sweet, southern drawl. In exchange, all she has to do is go to dinner with him. Temptation was never so sweet. Max Quinn has secrets of his own. His good deeds aren't just a product of his southern upbringing; they're his atonement. As one dinner turns into two, he realizes that Kari just might be his salvation. As they struggle to find their path together, their secrets weigh heavier on them. Will they be able to trust one another with the truth, or will their secrets keep them apart forever? This book CAN be read as a stand-alone novel.
Goodreads
~
Amazon
Never in your wildest dreams could you begin to imagine all the filthy and depraved things that go on inside The Wicked Horse. Step inside and Woolf Jennings will make every one of your dirty fantasies come true. He's covered in a facade of deception. An enticing blend of multi-millionaire and hot-as-hell Wyoming rancher, those that think they know Woolf Jennings admire his abilities to preside as CEO of his family's cattle and oil empire. But only a privileged few truly understand what fuels the glitter of depravity in those gorgeous blue eyes. Only a few know he's opened up a sinfully erotic and private sex club named The Wicked Horse right at the base of the beautiful Teton Mountain range. Sweet Callie Hayes has returned home to Wyoming and is looking forward to starting her life over again. After a night of impetuosity, she's managed to put herself right in Woolf's line of sight… the man who she foolishly offered up her virginity to years ago and was flatly turned down. Now Woolf is seeing that Callie is all grown up and has a kinky side to her that leaves him as confused as it does turned on. Worse yet, both Callie's dirty desires and sweet heart are getting under his skin, and making Woolf question everything he's ever believed about himself. **Warning: this book has sex in it. Lots of sex. Dirty sex. The Wicked Horse Series is a bit different than what Sawyer Bennett normally writes. While you'll still enjoy fabulous characters, a suspenseful story, some witty banter and an epic romance, there's just… a lot of sex. You've been warned.
Goodreads
~
Amazon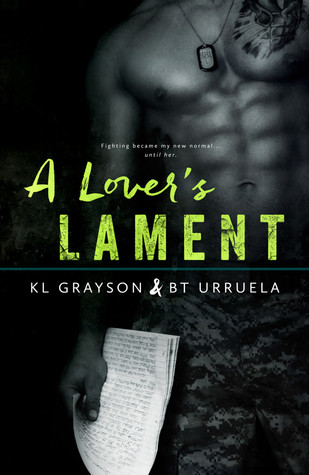 In a matter of seconds my entire world changed, and it was in that moment that I stopped living and simply began to exist. In my grief, I sent a letter to the first boy I ever loved. I hoped in writing it I'd find some peace from the nightmare I was living, some solace in my anger. I didn't expect him to write back. I wasn't prepared for his words, and I certainly wasn't ready for the impact this soldier would have on my life. A deep-rooted hate transformed into friendship, and then molded into a love like I'd never known before. Sergeant Devin Ulysses Clay did what I couldn't: he put the shattered pieces of my heart back together, restoring my faith in humanity and teaching me how to live again. But now that I'm whole, I have a decision to make. Do I return to my life as I knew it and the fiancé I left behind, or do I walk away from it all for the only man to ever break my heart? *** I've been living in hell, but you won't hear me complain. These men depend on me, as I do them, and this brotherhood is the only family I've ever known. The Army saved me from a callous mother and a life on the wrong side of the tracks that was quickly spiraling out of control. So unlike most of the men in my platoon, going home wasn't something I longed for. I was content overseas, spending my days defending this country that gave me my life back. Fighting became my new normal … until her. A letter from Katie Devora—a letter that I almost didn't open. Her words put a fire back inside of me that I didn't know I'd lost. She gave me hope during a time when I was fighting every day just to stay alive, and now it's time I fight for her.
Goodreads
~
Amazon
I am a son. I am a brother. I am an artist. I am a student. I am her student. She was my first. First infatuation, first 'real' kiss, first love, first..... heartbreak. I gave her everything, including my body and would have given her more. I gave her 'I love you' ….she told me her heart was filled by another, there was no room left for me. We could never be. What we did was wrong. It didn't feel wrong to me. The deepest hurt is a love that you cannot have. It will last the longest, cut the deepest and feel the strongest. It is an imperfect love; a disfigured circle that never ends. You cannot control it; it's as simple as blinking and just like blinking the more you try to stop it, the more the pain consumes you. This is book 3 in 'The Love by Numbers' series. Although it contains characters from the previous books, it can be read as a standalone.
Goodreads
~
Amazon
Can be read as a standalone novel
**Contains sensitive subject matters**
Dying . . . Dead . . . Deceased . . . It doesn't matter how many times I say it or how many different names I give it, it still means the same thing. One of these days I'll be nothing but a passing memory, a familiar face in a forgotten photo. But there are three things I need before this life of mine ends . . . I need to tell him I love him more than life itself. I need to feel the strength of his arms wrapped around me just one more night. Most of all, I need him to forgive me. Eight years ago I broke the heart of the only man I've ever loved and today I'm moving home in hopes that he'll let me put it back together. I'm not sure how many breaths I have left, but I'll use each and every last one fighting for what I destroyed. My name is Laney Jacobs and this is my journey.
Goodreads
~
Amazon
Ruthless, Demanding, Wicked and Running from the Law. Tessa It was a routine parole hearing, until I get caught in the middle of a prison break. Now I'm property of Max Kincaid, Florida Correctional Inmate Number 91428 I should be terrified. I should be demanding my freedom. Instead I'm begging him to deliver on all the wicked promises in his eyes. The longer I'm with him, the more I need him. His touch answers cravings I never knew my body had. Now, all I crave is him. Max: My life ended years ago. I have no right to touch Tessa. I should let her go. I can't. Instead, I lose myself in her body. I'm living on borrowed time. But when the devil comes to collect his due, It will be with her taste on my mouth. My brand on her body. And her name on my lips. This Book is a stand alone containing one hot alpha and the woman who wants him even more than the cops chasing them both. Insta-love, hot fun in the Flordia Sun...or rain and a Happily Ever After guaranteed.
Goodreads
~
Amazon
Sometimes everything in life must crash and burn so that life may begin again.
When Fates Collide
Life can change in the blink of an eye. One moment, Lily is trapped in a loveless marriage. In a split second she is free, but at what cost? Her mundane life is set into a freefall of tragedy and terror. Her husband may be out of her life, but he left a storm of collateral damage behind and the burden is on Lily to sort it out. Fate connects Lily with Gavin, a charmingly handsome British gentleman that has been drawn into her tangled circumstance. Gavin is everything Lily's husband wasn't and gives her hope that love really does exist. Gavin wants nothing more than to sweep Lily up and carry her off into the sunset, far away from the devastation left behind by her husband. Gavin has been the first breath of fresh air in her life, but she isn't looking to be saved. She needs to clean up her husband's mess and find a way to save herself in the process. Does she throw caution to the wind and open her heart? Or listen to her head that tells her and go it alone until she's found herself again?
When Fate Isn't Enough
Can a romance that was written in the stars survive real life? Lily Clark and Gavin Edwards met when their lives collided in a crazy twist of fate. Their relationship started amidst chaos, fraught with lust, passion, and love. Building a life together will take more than destiny, especially when ghosts from their past try to tear them apart. Needing a fresh start, Lily decides to escape her life in Washington, DC to join Gavin in London. Trust and faith have never come easily to Lily. She'll be put to the test now that she and Gavin are living under the same roof. To make matters worse, trouble finds Lily wherever she goes. She thought she'd rid herself of her late husband's demons, but she soon learns that when you make a deal with the devil, he often comes back to up the ante. Can she learn to let Gavin in or will she continue to fight her battles alone? Find out what happens When Fate Isn't Enough.
When Fates Align
Why would fate bring them together only to tear them apart? Lily and Gavin were brought together in a clash of tragedy and chaos. Amid the ashes of lives gone wrong, they thought they found a second chance at love. With trouble from their previous lives lurking around every corner, they quickly learned that love from a star-crossed romance isn't enough to survive. Lily has slipped through Gavin's fingers, and he feels as though he's been sentenced to an eternity in hell. But if he's going to perish in the ninth circle, everyone responsible for coming between him and Lily will go down with him. Perhaps their love was never meant to be. But, if he's learned anything from his time with Lily, it's that sometimes everything has to crash and burn before life can begin again.
Box Set ~
Goodreads
~
Amazon
This is not a story about fairytales. I expected to be lonely when I dropped everything and ran without telling a soul. I expected to be afraid, hiding from Dean. What I didn't expect was Vic. Like a moth to my blazing destruction, I'm drawn to him. We're lust. We're rage. We might even be love. We're definitely two people who shouldn't be together, but we belong together. It's not long before I'm wondering if Vic could be more twisted than the man I ran away from. Our fire won't burn forever, but something tells me Vic might revel in the ashes. I should have known better than to think I stood a chance. WARNING: This book contains graphic sex, graphic violence, and mental illness. This may be a trigger for some. Proceed with caution.
Goodreads
~
Amazon