Everyone say a big hello to TC Matson, our guest for today's Meet The Author post...
Published Work:
Mistaken Identity (Mistaken Series Book #1)
Goodreads
Amazon ~ On Kindle Unlimited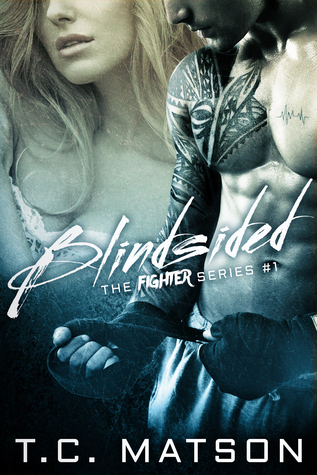 Blindsided (The Fighter Series Book #1)
Goodreads
Amazon ~ On Kindle Unlimited
What are you working on now?
Unexpected (The Fighter Series Book #2)
Do you get to write full time or do you have a "day" job?
I have an "all the time" job. I'm a stay at home mom of 3 kids. To be specific—all boys. I'm surrounded by testosterone and tantrums, teenage mood swings and frumps, dirt and bugs. You name it, I've probably seen it. Except Australia sized bugs. Nope! No thank you. I'd die if I had a spider the size of my head rustle past me. Eeek NO!
I have a limited time to write. Sometimes I'm lucky to have an hour a week, other times I'm blessed to have a full day.
Favorite part of being an author?
There is no way either one of these outweighs each other. They're equal in my mind.
First, the ability to get the voices out of my head and onto paper is wonderful! Makes me sound a little coo-coo, huh? I'm not. No need to commit me to the loony bin…although, that could be a vacation for me. Hmm…something for me to ponder on.
Second, my readers. I have the best readers/fans ever. They send me messages, emails, comments, and snail mail that are uplifting (for the most part) and downright motivating. My readers are marvelous and the reason why I push myself so hard. I've had messages ranging from "OMG!! That was the best book ever!" to "Thank you." That does something to my heart. Seriously, it gives me the 'feels.' I've met some pretty fantastic people.
Scariest part of being an author?
Publishing. Not only is it exciting, but it's mentally taxing. I drown in concerns. Think about it: my novels are my babies. Will you like it? Will you hate it? Did I finalize the right cover? Did my editor and proofers miss anything? The ol' "What if" beats me down. The unknown can be wicked.
Picture this: you strip down naked and stroll through busy downtown. Are your nerves shot? Hi!! Welcome to my world.
Who are your favorites to read?
R.K. Lilley has and will always have my heart.
Harper Bentley, Alexa Keith, Anne Mercier, Skyla Madi, Callie Hart, Christina Lauren, Lea Griffith, CJ Wells, Emma Chase just to name a few. ;)
If you had $1 Million to giveaway, what would you do with the money?
Of course I'd set my kids up to live comfortably. I'd give them enough to ensure they don't live check to check, but they definitely will have to work.
The rest I'd love to donate it to a local organization—Purple Heart Homes. Long story short, this organization supports and helps all Vets regardless of the war they were in, their rankings, or the branch they served by building or renovating homes to help suffice their disabilities at no cost to the Veteran. For more information, check out the website.
https://www.purplehearthomesusa.org/
One piece of advice for an aspiring writer?
DO NOT GIVE UP! Keep pushing yourself. I promise the light at the end of the tunnel isn't a train regardless of how loud that horn sounds. Don't be afraid to learn and evolve because it's going to happen. Listen to your readers, even the negative things. Make sure you grow thick skin because constructive criticism comes in all shapes and sizes. You'll learn from it. Find your groove and write for YOU! Just keep going!!
Where can we find you?