Beneath the Stars
A Friends-to-Lovers Rockstar Romance from A.L. Jackson
Available Now on Amazon and Free with Kindle Unlimited
"Haunting. Exquisite. Hot. AL Jackson slayed me heart and soul. Beneath The Stars is a definite favorite and re-read for 2021. I couldn't get enough of this epic tale of love and redemption."
-Michelle Heard, USA Today and Wallstreet Journal bestselling author
"Beneath the Stars is nothing short of amazing and I wish that I could give it ten stars."
-Veronica's Reading Vault
Read on Amazon or with Kindle Unlimited
Listen to the Audio Narrated by Andi Arndt and Zachary Webber
---
DETAILS:
TITLE: BENEATH THE STARS
RELEASE DATE: FEBRUARY 22ND, 2020
Synopsis
From NYT and USA Today bestselling author A.L. Jackson comes a friends-to-lovers romance about an unattainable rockstar and his best friend's younger sister…
Maggie Fitzgerald is the last girl I should think about taking to my bed.
On the cusp of turning 21, she has her whole life waiting out ahead of her. Sexy AF while still radiating an innocence that I know better than to taint.
And here I am, itching to reach out and touch a girl who is so forbidden that just thinking about her feels like committing a mortal sin.
Thing is, I love playing with fire.
Rhys Manning is everything I shouldn't want.
Country-rock's newest superstar.
Fun. Wild. Ready to show the world a good time.
He's so off-limits it isn't even funny.
So out of reach he might as well be a poster tacked on my wall.
Too bad every time he looks at me, my heart races out of control.
Now, I'm stuck living with him for the entire summer…
We're only supposed to be friends. Still, I should have known it was a terrible idea when I started sneaking into his room. Especially when it's clear he's keeping secrets.
Secrets that might destroy us both.
One touch, and I want more.
One kiss, and I'm spiraling out of control.
I know it's reckless to start dancing in the flames.
But in exchange for getting to spend one night with this brooding bad boy? I might be willing to get burned…
Read on Amazon or with Kindle Unlimited
Listen to the Audio Narrated by Andi Arndt and Zachary Webber
---
"Maggie and Rhys' story was everything and more and it had me soaring. A.L. Jackson brought her signature touch to this phenomenal story."
-Ness Reads Book Blog
Read on Amazon or with Kindle Unlimited
Listen to the Audio Narrated by Andi Arndt and Zachary Webber
---
GIVEAWAY
Win an Ultimate A.L. Jackson Prize Pack
Kindle Fire, Signed Paperback, Book Nerd Mug, & More!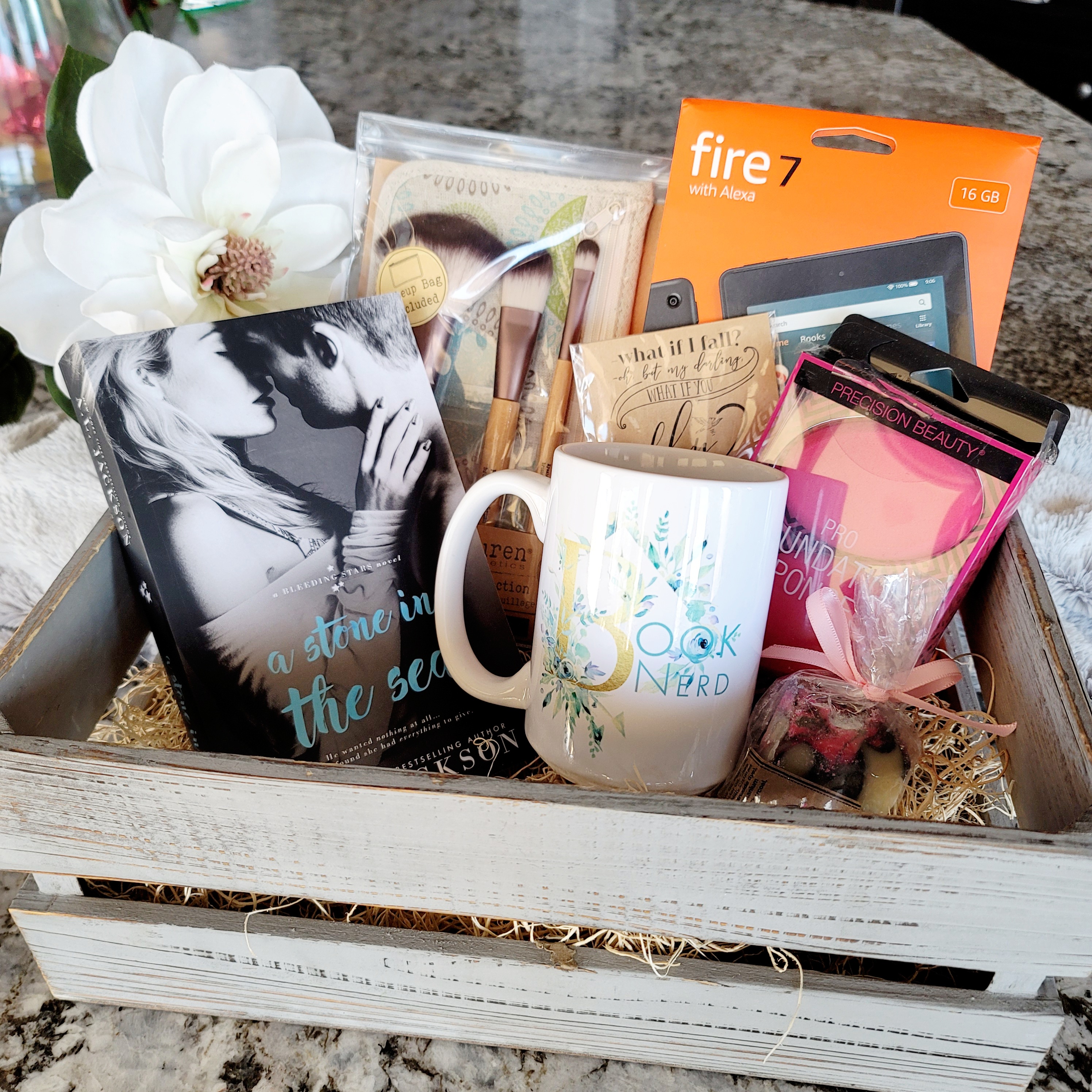 Read on Amazon or with Kindle Unlimited
Listen to the Audio Narrated by Andi Arndt and Zachary Webber
---
A.L. Jackson is the New York Times & USA Today Bestselling author of contemporary romance. She writes emotional, sexy, heart-filled stories about boys who usually like to be a little bit bad.
Her bestselling series include THE REGRET SERIES, CLOSER TO YOU, BLEEDING STARS, FIGHT FOR ME, CONFESSIONS OF THE HEART, and FALLING STARS novels. Grab her newest stand-alone, BENEATH THE STARS, a friends-to-lovers rockstar romance.
If she's not writing, you can find her hanging out by the pool with her family, sipping cocktails with her friends, or of course with her nose buried in a book.
Be sure not to miss new releases and sales from A.L. Jackson - Sign up to receive her newsletter http://smarturl.it/NewsFromALJackson or text "aljackson" to 33222 to receive short but sweet updates on all the important news.
Connect with A.L.
Newsletter: http://smarturl.it/NewsFromALJackson
Facebook: http://smarturl.it/ALJacksonPage
Reader Group: http://smarturl.it/AmysAngelsRock
Amazon: http://smarturl.it/ALJacksonAmzn
Bookbub: http://smarturl.it/ALJacksonBookbub
Twitter: @aljacksonauthor
Instagram: @aljacksonauthor
Elizabeth's Review
My rating: 4 of 5 stars - Would Recommend to a Friend
Review Copy Provided by Author
Ms Jackson has done it again and delivered a compelling addition to the series surrounding the band Carolina George. In Beneath the Stars, we get to spend time getting to know the final member of the band, bassist Rhys Manning.
Rhys has been the perineal "good time" guy in the previous books surrounding the band, here Ms Jackson reveals the layers and real person behind the larger than life stage persona. He is paired with Maggie (another secondary character that has played key roles in previous books in the series.)
I loved these two characters together. Their connection radiated off the page and had me rooting for them to figure out a way through the baggage and trials that surrounded them. As with each book in this series, there was a high intrigue level that kept me guessing until the very end.
One of the things I loved about this book is also the thing that kept it from being a full 5 star read for me. While Beneath the Stars is technically a stand alone read, it is also strongly tied to the previous books. In this book, there are potential spoilers if you are reading the series out of order. Key parts of the back story for Rhys and Maggie is also woven into the previous installments in the series and reading in order will make the over all series experience better.
View all my reviews